The Situation of IDPs in Myanmar/Burma and Refugees in Neighboring Countries
Latest UNHCR displacement figures from April 6, 2022 indicated there are now over a half a million people, 561,000, displaced inside the country and 53,000 displaced to neighboring countries since the military coup of February 2021. Factoring in displacement that existed prior to the military coup, there are now 980,000 refugees and asylum seekers from Myanmar/Burma in neighboring countries and 908,000 internally displaced.
According to the UNHCR Emergency Update for April 6, there have been 36,300 Chin IDPs displaced in Chin State and 33,700 Chin refugees displaced to Mizoram State, India since the February 2021 coup.
On April 21, 2022, 6 asylum seekers including 2 children were killed at a riot at Sungai Bakap, a temporary immigration depot in the northern Malaysian state of Penang that mostly detains ethnic Rohingya refugees from Myanmar. The asylum seekers were killed when riots broke out and approximately 528 Rohingya fled the facility. UNHCR does not have access to immigration detention facilities in Malaysia but remains concerned over the conditions of the detention facilities and the situation that caused the riot. UNHCR is ready to support the government to develop alternatives to immigration detention, especially for vulnerable populations.
Map indicating scale of displacement in Chin State, Myanmar after the February 1, 2021 military coup as well as protracted displacement prior to the coup.
Source: UN OCHA Humanitarian Update No. 11
On April 22, 2022, according to CAM sources, the military based in Thantlang town, Chin State in Burma burned 15 homes: 8 homes at the TABC Block and 7 homes at the Lungtial Block. This is the 27th time the military burned residences in Thantlang town since September 2021 which has included 1,161 homes and 8 Christian churches, according to the Thanltang Placement Affairs Committee. Because of the widespread destruction, the entire population of Thantlang Town has fled. CAM issued a statement strongly condemning the burning of homes and churches.
Residences and churches that have been burned and destroyed by the military in Thantlang Town, Chin State in Burma.
Photo Credit: Thantlang Placement Affairs Committee
IDPs & Refugee Care and Counselling (IRCC) program providing medical treatment in Bungkhua village, Thantlang Township, Chin State.
Photo: Rev. Neely Laiuk
Human Rights and Religious Freedom in Myanmar/Burma
The Assistance Association for Political Prisoners (AAPP) provides a daily report in regards to the coup. As of April 29, 2022, AAPP indicated there have been 1,803 killed and 13,496 arrested by the military. The military is also currently holding 10,449 people of Myanmar/Burma in detention.
On April 17, 2022, the Burmese military released approximately 1,619 prisoners to mark the Buddhist New Year, an annual tradition. Many families anxiously awaited their friends' and relatives' release, however only those with criminal charges were released, excluding protestors and those with political cases. What is usually a joyous holiday celebration was subdued due to the military crackdown.
On April 27 a court in Myanmar sentenced leader Aung San Suu Kyi to five years in jail after finding her guilty in the first of 11 corruption cases she faces. She was charged with at least 18 offences carrying combined maximum jail terms of nearly 190 years if prosecuted, complicating her political role in Myanmar/Burma.
The United Nations, the United States, and Other International Communities on Myanmar/Burma
On April 6, 2022, Senator Mitch McConnell (R-KY) met with U.S. Ambassador to Burma, Thomas Vajda. The two discussed the National Defense Authorization Act as a means to push back against the military's repression, to support democratic actors like the National Unity Government and National Unity Consultative Council, and to provide humanitarian support that effectively bypasses the Tatmadaw.
On April 6, 2022, The House of Representatives passed H.R. 5497, the BURMA Act of 2021. It is still pending in the Senate. If it passes the Senate it will go to the President to sign into law; it is expected President Biden will sign the bill.
On April 8, 2022, President Biden signed into law the Global Magnitsky Human Rights Accountability Act. Senator Marco Rubio (R-FL) led Senators Tom Cotton (R-AR), Chuck Grassley (R-IA) and others led efforts to reauthorize the Global Magnitsky Human Rights Accountability Act (S. 3924) until December 31, 2034. The previous law was enacted in 2016 and was set to expire in December 2022. This law provides the President with the authority to leverage economic sanctions against any party responsible for "gross violations of internationally recognized human rights" against human rights defenders or individuals exposing government corruption.
The The United States Commission on International Religious Freedom (USCIRF) welcomes the permanent reauthorization of the Global Magnitsky Human Rights Accountability Act and stated, "The Global Magnitsky Act is an important tool to impose consequences on violators of religious freedom that can now be used for years to come thanks to its permanent reauthorization." CAM also welcomes the reauthorization of the Global Magnitsky Human Rights Accountability Act.
On April 8, 2022, USAID Deputy Administrator Isobel Coleman met with Aung Myo Min, Human Rights Minister, National Unity Government of Burma. Deputy Administrator Coleman reinforced U.S. support to the pro-democracy movement, including the National Unity Government (NUG) of Burma, and underscored USAID's commitment to stand with the people of Burma and promote democracy, as well as "justice and accountability for the genocide and acts of horrific repression committed against Rohingya" as well as the violence against pro-democracy activists and peaceful protestors by Burma's military. They discussed ways to support the NUG and pro-democracy groups.
On April 12, 2022, the State Department's Bureau for Democracy, Human Rights, and Labor 
released their Country Reports on Human Rights Practices, including for Burma. The report outlines substantial human rights atrocities that have taken place by the military since the February 1 coup. Atrocities include unlawful or arbitrary killings, including extrajudicial killings; forced disappearances; torture and cruel, inhuman, or degrading treatment and punishment by the regime; substantial interference with the freedoms of peaceful assembly and association; particularly severe restrictions on religious freedom; restrictions on freedom of movement; the inability of citizens to change their government peacefully through free and fair elections; serious and unreasonable restrictions on political participation; and various other unjust actions. The report also underscores the military's actions and abuses with complete impunity. The report also included details that "the military blocked humanitarian supply routes to 50,000 IDPs in Chin State" in late September 2021, leaving many at-risk and vulnerable. 
On April 16, 2022, White House Press Secretary Jen Psaki announced President Biden will host the Leaders of the Association of Southeast Asian Nations (ASEAN) in Washington, DC on May 12 and 13 for a U.S.-ASEAN Special Summit. The summit will demonstrate the President's commitment to ASEAN and the Southeast Asia region. This will build on the last summit and the President's commitment of $102 million for expanding initiatives with ASEAN for COVID-19 related issues, fighting climate change, promoting gender equity, and promoting economic growth.
On April 19, the U.S. Mission to the United Nations Ambassador Linda Thomas-Greenfield met with National Unity Government (NUG) representatives Aung Myo Min and Moe Zaw Oo. Ambassador Thomas-Greenfield reaffirmed U.S. support for the people of Myanmar/Burma discussed avenues for promoting a transition to democracy.
On April 27, 2022 after the news of Aung San Suu Kyi's jail sentence, Senate Republican leader Mitch McConnell made a statement on the Senate floor regarding Myanmar/Burma. He called the sentence a baseless claim and stated that Daw Aung San Suu Kyi "was handed yet another outrageous sham sentence by the military junta in Burma. For the past year, the leader of Burma's democracy movement and thousands of her fellow citizens have been detained while the Tatmadaw drags their country violently backward." He also commended the pursuit of democracy in Myanmar/Burma and unity that has emerged among ethnic minority groups in this pursuit.
On April 29, 2022, the Malaysian Home Minister Datuk Seri Hamzah Zainudin indicated the Malaysian government would no longer acknowledge refugee status granted by UNHCR and would issue their own refugee cards from the Malaysian government. The Home Minister reiterated that Malaysia is not a signatory to the 1951 Convention relating to the Status of Refugees and its 1967 Protocol and that UNHCR did not have the legal or administrative framework to manage refugees in the country. In April of 2020 the Home Minister went on record indicating Malaysia would not recognize refugee status of Rohingya refugees from Myanmar/Burma and would classify them as illegal immigrants.
On April 25, 2022, the United States Commission on International Religious Freedom (USCIRF) released their 2022 Annual Report. Zo Tum Hmung, Executive Director of the Chin Association of Maryland, Inc. (CAM) joined the Report Release Event. Nadine Maenza, Chair of USCIRF and Nury Turkel, Vice Chair of USCIRF provided the opening remarks. Speaker Nancy Pelosi(D-California) and Senator Marco Rubio (R-Florida) delivered special remarks. CAM issued a statement welcoming the report and the recommendations related to Burma, especially the redesignation of Burma as a Country of Particular Concern. CAM also commends the recommendations to "Actively support international efforts to hold the Tatmadaw, Burmese agencies, and officials accountable through the international legal system for atrocities against religious communities…" (page 14).
Since President Biden signed an Executive Order in February 2021 that permits the U.S. government to impose financial sanctions in response to the coup, the U.S. government has sanctioned 70 individuals and 27 entities, including top military commanders and businesses that generate revenue for the military. As the humanitarian crisis in Burma worsens, the U.S. government continues to encourage regional and likeminded partners to enhance humanitarian support and to pressure the military regime to allow unhindered and safe humanitarian access, including to at-risk communities and to safeguard aid workers.
CAM's Advocacy Activities
On April 7, CAM issued a statement welcoming the passage of the Burma Act of 2021 in the House. The bill is still pending in the Senate and if it passes the Senate it will go to the President to sign into law. It is expected President Biden will sign the bill. To this end, CAM is encouraging you to reach out to your Senators and encourage them to pass S. 2937, the BURMA Act, in the Senate. Especially consider reaching out to Senator Todd Young from Indianapolis to co-sponsor the bill.
CAM Executive Director Zo Tum Hmung was interviewed by Voice of America after the House passage of the BURMA Act. He stated, "This is very good news for Burma. The U.S. Congress shows its strong support towards promoting democracy, human rights, and accountability."
The International Christian Concern (ICC) welcomes the passage of the Burma Act by the U.S. House of Representatives. The ICC and CAM have worked together for the past several months  conducting meetings on Capitol Hill to raise support for the bill and advocate for its passage. CAM Executive Director was quoted by the ICC, "This step toward the passage of this bill sends a good message to the people of Burma; telling them that the U.S. is committed to supporting human rights and seeking accountability for the violence that has occurred…We welcome the appointment of a special coordinator who can provide Myanmar with the proper attention needed to reestablish democracy and we applaud the more than $200 million in humanitarian funds that could be provided to protecting refugees and those internally displaced." 
CAM Executive Director has continued conducting advocacy training virtually and in person. In a recent trip to Columbus, Ohio, Mr. Hmung was able to provide advocacy training to the Chin community there. He also met with the Chin pastor, church leaders, and Dr. Jeff Woods of the General Secretary of the American Baptist Churches USA and discussed advocacy with Ohio Senators and Representatives on Burma issues, especially the persecution of Chins in Chin State and Sagaing region.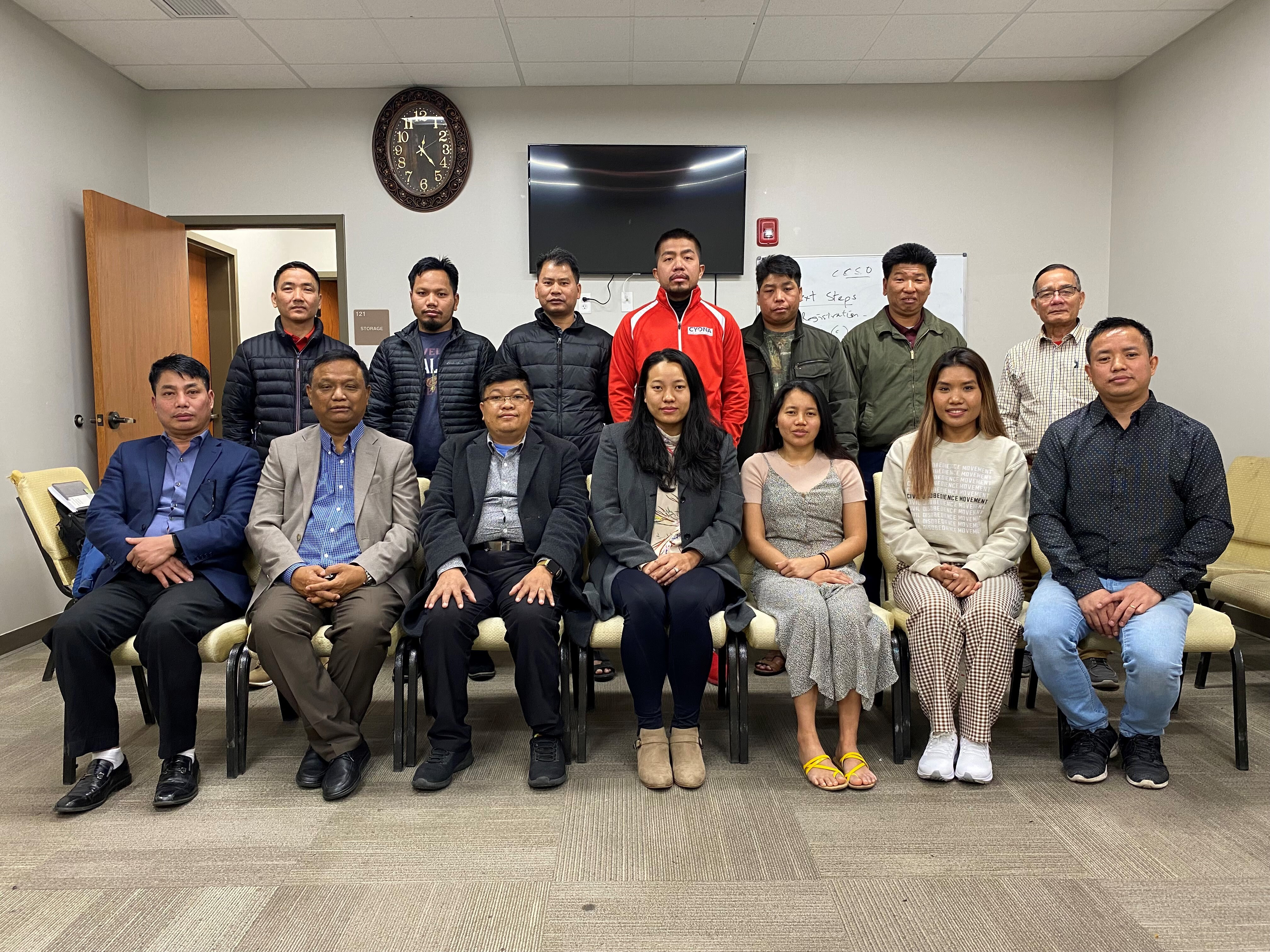 Advocacy training with Chin community in Columbus Ohio. Photo Source: CAM

Meeting with Dr. Woods of the General Secretary of the American Baptist Churches USA as well as a Chin pastor and other leaders from Ohio . Photo Source: CAM
Mr. Hmung also visited Professor David Williams, John S. Hastings Professor of Law and Executive Director at the Center for Constitutional Democracy in Bloomington, Indiana. He discussed the atrocities committed by the Burmese military against the Chin people and the need to further investigate and collect evidence to build a case.

Meeting with Professor Williams at Center for Constitutional Democracy in Bloomington, IN. Photo Source: CAM
In his travels, Mr. Hmung visited chicken farms in Bishopville, Maryland and is helping to create a business plan for the Chin community to run the chicken farms.

Photo Source: CAM
CAM Executive Director continued advocating for passing the Burma Act of 2021 with the Burma Advocacy Group. He conducted briefings on the situation in Myanmar/Burma with Members of Congress including the staff of Sen. Marco Rubio (R-Fl).
CAM also started election education for the Chin community in Maryland and met with former County Executive Allan Kittleman regarding election laws and policies.
Mr. Hmung also recently spoke about the Burma Act of 2021 as well as CAM's most recent report documenting atrocities after the military coup at Georgetown University in Washington DC.
The International Religious Summit has chosen the Chin Association of Maryland to be a Vendor Partner on June 28-30, 2022. As of this report, 11 Chin youth and 3 pastors from Maryland will participate at the Summit.
Join CAM in our Advocacy Activities!
Join CAM's efforts in advocacy by writing a letter to your congressman/woman and ask them to write a letter to Secretary Blinken and USAID Administrator Samantha Power urging the following: 1. To put pressure on the Burmese military a) to allow the UN agencies including UNHCR to go to Chin State to deliver humanitarian assistance to the internally displaced persons in Chin State, Burma, especially in Thantlang townships. We learned that UNHCR has sought a travel authorization from the military to travel to Chin State, but the military has not granted it.
b) to permit the UN agencies to establish offices in Chin State immediately, especially UNHCR in Hakha, the capital of Chin State.
c) to halt the inhuman acts and also hold accountable the military  who committed crimes.
2. To engage India to allow UNHCR in New Delhi to register over 20,000 newly arrived Chin refugees in Mizoram State, India and also to deliver aid to both the refugees and the local communities that are welcoming them.
The Burma Act of 2021
CAM continues its advocacy in support for the Burma Act of 2021 and suggested various amendments including the principal of federalism as an amendment to the bill. To learn more about CAM's advocacy related to this bill, please click here. The Burma Act was introduced in the Senate (S.2937) and the House (H.R.5497) on October 5, 2021. The Burma Act passed the House on April 6 and is pending in the Senate.
Burma Act of 2021
(as of April 30, 2022)
The Burma Act of 2021
Sponsors
Democrat
Co-Sponsors
Republican
Co-Sponsors
Independent
Co-Sponsors
Total
Co-Sponsors
Senate (S.2937)
Senator Ben Cardin
26
0
1
27
House (H.R.5497)
Passed the house on April 6, 2022
Rep. Gregory Meeks
passed the House
66
18
0

84
Join CAM's efforts in advocacy by writing a letter to your Senators asking them to sponsor the Burma Act of 2021 as amended: 
Please support the BURMA Act of 2021 by becoming a co-sponsor to the bill. This would help restore the democratically elected government of Burma. It would establish an inclusive political dialogue in Burma, which would be a step toward establishing a federal democratic union.
Please also consider the following amendments to make the Burma Act of 2021 more relevant to the current situation on the ground in Burma:
1- Establish A Federal Democratic Union of Burma
It is important that the Act mention "federal democratic union," not just democracy. The political crisis in the union of Burma is not only about promoting democracy or human rights. For over a half a century, the Burmese military regimes have been persecuting the ethnic nationalities and the religious minorities. Resolving the political crisis in Burma is about respecting minority rights and autonomy. That is what the ethnic armed organizations (EAOs) have been fighting for all these years. A "federal democratic union" would help ensure those rights are safeguarded. NUG's duties include "establishing a federal democratic union" (see building a federal democratic union" under the Duties of NUG ( https://gov.nugmyanmar.org/about-nug/).
It is important that the bill restores civilian governance and ensures strong oversight over the military, but it should also mention the importance of establishing a federal democratic union that safeguards full autonomy for the internal administration of states or regions.
2- Abolish the 2008 Constitution
The Act should clearly mention abolishing the 2008 Constitution rather than reforming it (see NUG's duties to abolish the 2008 Constitution). The ethnic political organizations and ethnic armed organizations have the same goal to abolish it.
3- Do Not Advocate for a Nationwide Ceasefire Agreement
The Act should also not advocate for the implementation of the Nationwide Ceasefire Agreement (NCA). It ceased being a just and viable instrument for maintaining peace when the military illegally took power on February 1, 2021. If included in the Act, many ethnic political organizations and ethnic armed organizations will strongly oppose it. The Act should instead advocate an inclusive peace process that would lead to establishing a federal democratic union.
4- Include engagement with Malaysia and India
Both Malaysia and India should be included in the bill because they both have a large stake in the return of refugees. According to UNHCR in Malaysia, there are 154,860 refugees from Burma, of which 102,990 are Rohingyas (https://www.unhcr.org/en-us/figures-at-a-glance-in-malaysia.html, CAM's Report, September 2020: https://chinmd.org/wp-content/uploads/2020/10/Chin-Refugees-Final-Oct-8-2020.pdf).  According to the Mizoram State government, since February 1, an estimated 20,000 Chins have fled to Mizoram seeking refuge. New Delhi has about 3,000 refugees. Besides hosting a large number of refugees Malaysia is an influential political and economic nation in the region. India likewise is very influential, as a Quad member, and the world's largest democracy. Both countries can and should play a big role to put pressure on the military regime in Burma to change its behavior.
5- Provide Karenni State and Mon State with humanitarian assistance
The Act should provide Karenni State (also known as Kayah State) and Mon State  with access to humanitarian assistance from UN Agencies and the international community. After the February coup, Karennis have been severely targeted by the military, creating over 82,000 new internally displaced persons. Also, at least eight Catholic churches in Karenni State have been destroyed by the military.
To learn more ways to advocate with CAM, click here.
In 2020 and 2021, CAM produced three reports: After the 2021 Military Coup in Myanmar/Burma: Challenges for Internally Displaced Persons and Refugees; Unsafe: Chins Seeking Refuge in Malaysia; and New Delhi, India; and Unprotected: Chin IDPs in IDPs in Chin and Rakhine States, Myanmar/Burma. CAM continues to advocate that the crimes against the Chin people in Myanmar/Burma are crimes against humanity and should be brought to the IJC and the ICC.
Join the Burma Advocacy Group (BAG) convened by the American Baptist Churches Commission on Burma Refugees by participating in their signature campaign launched on March 1, 2022. The Burma Advocacy Group (BAG) is a group of leaders from associations, churches, community groups and acting with one voice to advocate for the passage of the Burma Act of 2021. The Goal of the Campaign is to gather and submit as many signatures as possible to our U.S. Senators and Representatives to request them to pass the (revised) Burma Bill that is under consideration. The Burma Advocacy Group believes the Burma Act of 2021 is our greatest opportunity to achieve 1) an end to the human tragedy and crimes against humanity in Burma; 2) an end the brutal military dictatorship in Burma; and 3) an opportunity to achieve a federal democracy in Burma for which the people of Burma have been giving their lives.There are a few different ways you can join the signature campaign:
Point your phone camera at the QR code below which will take you to the web site to sign up and submit the petition.
Go to www.Burmaadvocacygroup.org and follow the instructions to sign up and submit the petition.
Facebook:  Burma Advocacy Group.  Use the QR code to sign up and submit the petition.
About CAM
The Chin Association of Maryland, Inc. (CAM) is a 501 (c)(3) non-profit organization based in Ellicott City, Maryland.  CAM empowers the Chin communities in Maryland to be successfully integrated into American society. CAM also advocates for durable solutions for Chin and other refugees and internally displaced persons, and religious freedom and human rights in Burma.Chins, virtually all of whom are Christians, are an ethnic nationality from Burma. They became Christians primarily due to the missionary efforts of the American Baptist Churches USA. They are a major recent U.S. refugee group that fled from Burma to neighboring countries to escape ethnic, political and religious persecution by the Burmese military since 1962. In 2001, about 1000 Chin asylees came to the U.S through Guam, resettling largely in Maryland, Indiana, Florida, and Texas. Since 2002, the U.S. has resettled many more Chin refugees coming through Malaysia and India. Chins now number 70,000 across the United States, with about 5,000 making Maryland their home.