Howard County Police Chief Myers hi Howard County Executive Calvin Ball nih a khanh (appointed). A rank a kaimi a si lo. Kan umnak Maryland State chungah County an um. Kannih hi Howard County ah kan um. Howard County uktu cu County Executive ti a si. Mipi nih an thim. Council 5 an um. Mipi nih an thim hna. County Executive a cungah State Governor a um fawn. Mipi nih an thim ve. Nain, County cu County Executive uknak ah a um.
County Executive nih Police Chief le adang department head vialte rian a khanh dih hna (appointed). Hi hi federal democracy ti lengmangmi cu a si. Kan County ah Governor a mui kan hmu bal rih lo bantuk in President Trump zong Maryland State ah a rak phan rih lo. State cu State nih a uk ko. County zong cu tthiamtthiam, County nih a uk ko hna.
Hi County Executive nih a khanhmi Police Chief Lisa Myers kong kan hrawmh hna-hi ka link ah —
County Executive Ball Names Lisa Myers as New Howard County Police Chief
January 8, 2019
Media Contact:
Scott L. Peterson, Director of Communications, Office of Public Information, 202-277-9412
Sherry Llewellyn, Director of Public Affairs, Howard County Police Department, 410-313-2236
ELLICOTT CITY – Howard County Executive Calvin Ball named Lisa Myers, a retired Howard County Police Department Captain, as the department's new Chief at a press conference today in the Columbia/Ellicott Rooms at the George Howard Building in Ellicott City. Myers had previously retired in January of 2018 as the Commander of the Human Resources Bureau, overseeing Employment Services and the Education and Training Division. Myers will become the Howard County Police Chief effective February 1. To view this announcement, please click here. To access or download photos from this announcement, please click here.
"I am selecting a 27-year veteran of the Howard County Police Department, a law enforcement professional committed to community policing and making all of our communities safe," said County Executive Ball. "Lisa treats everyone in our community with respect, dignity, transparency, a consistent willingness to go 'above and beyond' to be helpful and a constant vigilance to keep us all safe. Our police department is one of the best in the nation and the reputation of this county being one of the safest communities in the nation is attracting families and businesses to move here as much as our top-ranked school system. Lisa Myers will continue this success."
"I have dedicated my career to the Howard County Police Department and I look forward to leading the agency with transparency and accountability," said incoming Chief Myers.
Myers began her career in 1990 as a civilian Crime Laboratory Technician. She entered the police academy in 1994 and worked within various components of the Police Department, including as the Chief of Staff, Patrol Division Watch Commander, Supervisor of Youth Services and Public Information Officer. She is an exceptional communicator with notable success in management of operations focused on lowering crime and building community partnerships. Myers has represented the Police Department in labor management negotiations and on multiple boards to include the Police Foundation, Citizens Advisory Council, African American Community Roundtable, and Police and Business Professionals Partnership.
"I had the opportunity to work with Lisa Myers in several assignments throughout her career and believe she is a great choice to lead the police department," said Police Chief Gary Gardner. "As I retire, I am glad to leave the agency in capable hands and know she will continue to build upon the police department's history of excellence."
"The members of the Howard County Police Officers' Association applaud Dr. Ball's decision to appoint Lisa Myers as Howard County's 13th Chief of Police," said Christopher Davis, President, Howard County Police Officers' Association. "Chief Myers is a great friend who has worked alongside many of our members throughout her career. She is a principled, proven, and highly-respected leader. She brings with her a tremendous intellect, a compassionate spirit, and a genuine desire to improve the lives of all who live or work in Howard County. Law Enforcement agencies throughout our country are facing critical challenges. Staffing issues, morale problems, and cumulative stress are all having a negative impact on our nation's guardians. We are confident that Chief Myers will be able to meet these challenges with the same kind of tenacity and common sense that she has displayed throughout her long career."
"We are very pleased with Howard County Executive Ball's choice for Chief of Police," said Sgt. James Capone, President- Howard County Police Supervisors Alliance, FOP Lodge 143. "Chief Lisa Myers is a proven leader who has earned the respect and admiration of the community and the men and women of the Howard County Police Supervisors Alliance. With over two decades of police experience, Chief Myers understands the challenges that law enforcement faces today. Her authentic leadership style recognizes that new ideas and different perspectives must be considered to address the needs of our community and those that wear the uniform in the 21st century."
"The appointment of Lisa Myers shows how far Howard County and the Police Department in particular have come over the years," said Herman Charity, first African American officer in the Howard County Police Department. "I've watched Lisa grow during the course of her career and I'm confident she will do an outstanding job." 
"I'm excited about Lisa Myers' appointment to lead the Howard County Police Department," said Howard County Council Chair Christiana Mercer Rigby (D-District 3). "She brings a diversity of experience and an eye toward moving the county's Police Department forward. She is exactly the type of leader we need in our community – one who works collaboratively with officers and residents to strengthen safety and trust in Howard County."
"I am ecstatic about the selection of Lisa Myers as the first woman and African American to lead the Howard County Police Department; representation and diversity matter," said Council Vice Chair Opel Jones (D-District 2). "In addition, and equally important, Chief Myers is extremely qualified and well respected by her colleagues. I believe we are one of the only jurisdictions in the United States of America with women leading both our police and fire and rescue departments; absolutely amazing!"
"I'm thrilled to be part of this next era of Howard County government. What good we all will do, together," said Councilmember Liz Walsh (D-District 1). 
"I am excited about the new women leaders in the County and am proud to be standing amongst them," said Councilmember Deb Jung (D-District 4). "This is a new chapter in the history of Howard County and I am grateful that County Executive Ball chose a well-qualified woman to be our next police chief."
BIO OF INCOMING CHIEF MYERS: 
Lisa D. Myers is a 27-year veteran of the Howard County Police Department. She retired in January 2018 as the Commander of the Human Resources Bureau, overseeing Employment Services and the Education and Training Division.
Myers began her career in 1990 as a civilian Crime Laboratory Technician.  She entered the police academy in 1994 and worked within various components of the Police Department, including as the Chief of Staff, Patrol Division Watch Commander, Supervisor of Youth Services and Public Information Officer.  She is an exceptional communicator with notable success in management of operations focused on lowering crime and building community partnerships.
Myers has represented the Police Department in labor management negotiations and on multiple boards to include the Police Foundation, Citizens Advisory Council, African American Community Roundtable, and Police and Business Professionals Partnership.
Myers holds a Bachelor's Degree from Coppin State University in Criminal Justice and is a member of the Maryland Chiefs of Police Association and the National Organization of Black Law Enforcement Executives (NOBLE).
Source: https://www.howardcountymd.gov/News/ArticleID/1356/News010819?fbclid=IwAR2SYqqiGNKavTp1AK_y_FuoOzJDQ82e1hsKV7VAKmFV46ETwLp_kSKGKzc
The Global Refugee Crisis Hit a Record High. The US Welcome for the Persecuted Is at a Record Low.
America is on track to admit 82 percent fewer religious minorities from the countries where they face the most danger.

GRIFFIN PAUL JACKSON
JUNE 20, 2019 8:00 AM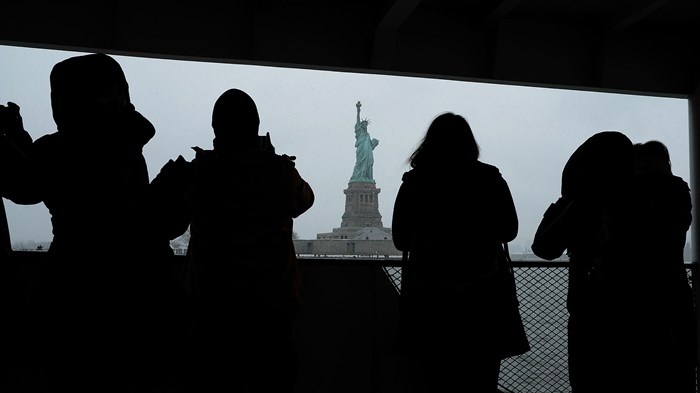 Image: Spence Platt / Getty Images
In just a few years, the United States has gone from a world leader in refugee resettlement to only admitting a fraction as many as it once did—a shift that has allowed fewer persecuted Christians and other religious minorities into the country.
On Thursday, World Refugee Day, the United Nations High Commissioner for Refugees declared a record-high 70.8 million people were displaced last year. Despite pleas from evangelicals, the Trump Administration continued to restrict the number of refugees admitted in the country to fewer than half of what it had been for decades.
The drop raised concerns over the fate of asylum seekers from countries where religious liberty is under attack, especially those deemed Tier 1 "countries of particular concern" (CPC) by the US Commission for International Religious Freedom (USCIRF).
Among refugees from USCIRF's countries of concern, "the data shows a projected decline of 82 percent in the total number of refugees resettled to the US between 2016 and 2019," according to a press release citing data collected and analyzed by Matthew Soerens, the US director of church mobilization at World Relief.
The number of Christians welcomed to the US from countries with the worst records of religious persecution has dropped by 70 percent, and the number of Muslims coming from such countries is down 90.7 percent.
To put that in perspective, in 2016 the US resettled almost 47,000 refugees from USCIRF's countries of concern, including 14,551 Christians. At the current rate, fewer than 9,500 refugees from the same countries will resettle in America this year, and only 5,103 Christians.
According to Soerens, "the most significant factor is the refugee ceiling, the maximum number of refugees to be allowed to the US each fiscal year, which the Refugee Act authorizes the president to set on an annual basis and which President Trump set last fall at a historically low 30,000."
As a result, Canada has surpassed the United States in refugee resettlement, the first time in the history of the United Nations refugee program that America fell behind any other country in terms of resettlement numbers.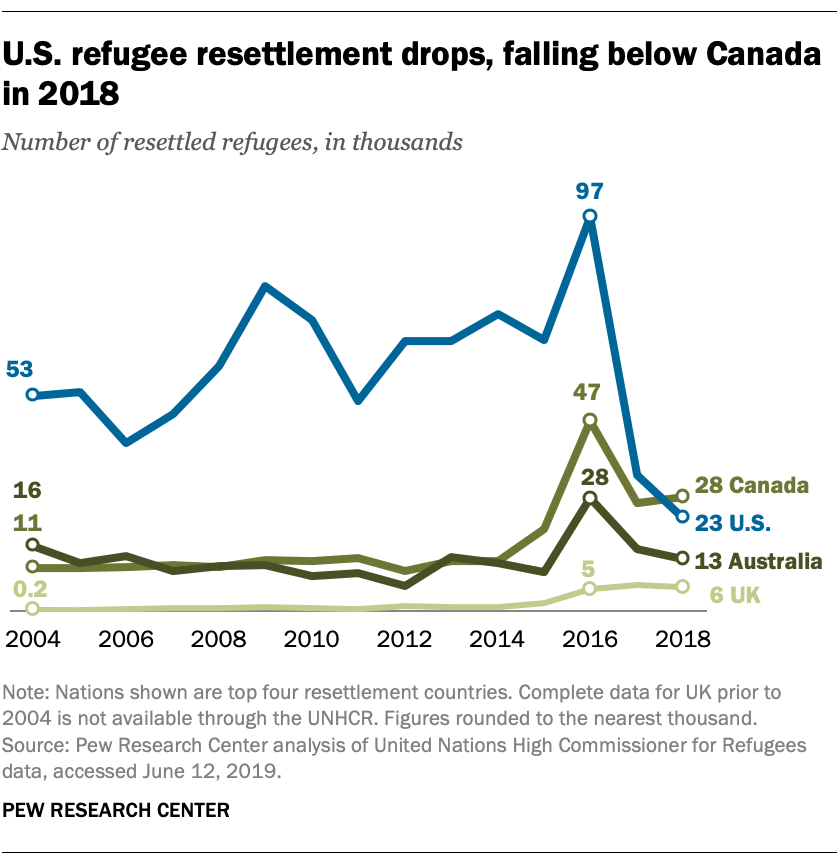 Canada's most prominent asylum seeker to find safety there over the past year was Asia Bibi, the Pakistani Christian who concluded nearly a decade of fighting a death sentence for blasphemy. Though she found enormous support among US believers, including some who campaigned for the White House to offer her asylum, she ultimately moved to Canada last month, where World Relief says local churches have supported a private resettlement program for 28,000 refugees.
Meanwhile, in the US, the number of Christian refugees from Bibi's home country of Pakistan, a CPC for religious freedom violations, is projected to fall by 59 percent.
And other top persecutors face starker declines; the numbers of Christian refugees from Iran, Iraq, and Syria are down 96 percent, 95 percent, and 85 percent, respectively.
While the US assisted 12,587 Syrian refugees in 2016 by bringing them into the country, in 2018 the number was 62. Syria is a leading religious freedom violator on USCIRF's list and ranks No. 11 on the World Watch List.
"The message we've been sending to the administration is: you're basically undercutting your entire religious freedom agenda because you're shutting the door on persecuted people," said Jenny Yang, World Relief's vice president of advocacy and policy, according to The Washington Post.
In a statement released last month, World Relief president Scott Arbeiter said, "We are gravely concerned that the US has abdicated its role in exemplifying the moral leadership needed to meet the needs of the most vulnerable displaced around the world."
Why the sharp decline in a time when religious persecution is said to be rising and Christians around the world, especially in the Middle East, face an existential crisis? Soerens cites a variety of factors.
"The specific executive orders that halted all resettlement temporarily in 2017 are generally no longer in effect," he told CT, "but the US government has been processing cases overseas at a much slower pace."
Part of that slowdown may be new vetting procedures. Another factor is deployment of Department of Homeland Security personnel, who must interview refugees, often multiple times, while they are still living in the places they're trying to flee.
Though the refugee ceiling continues to drop year after year, Soerens still believes there are members of the administration who are concerned with the plight of persecuted religious minorities and want to see more resettlement in the US. "I'm praying their voices carry more weight in the years to come," Soerens said.
President Trump must decide by October 1 where to set the refugee ceiling for fiscal year 2020.
According to USCIRF, the 16 worst countries for their abuses of freedom of religion and conscience are Burma, the Central African Republic, China, Eritrea, Iran, Nigeria, North Korea, Pakistan, Russia, Saudi Arabia, Sudan, Syria, Tajikistan, Turkmenistan, Uzbekistan, and Vietnam. All but one of these countries—Russia—also appears within the top 30 most dangerous countries for Christians, according to the World Watch List.
The commission's Tier 2 countries of concern include Afghanistan, Azerbaijan, Bahrain, Cuba, Egypt, Indonesia, India, Iraq, Kazakhstan, Laos, Malaysia, and Turkey.
Source: https://www.christianitytoday.com/news/2019/june/world-refugee-day-uscirf-resettlement-persecution-us.html
World Refugee Day 2018: 'Welcoming the Stranger' Meets 'Zero Tolerance'
Christians pray for asylum seekers and defend family unity amid US policy changes.KATE SHELLNUTT
JUNE 14, 2018 9:00 AM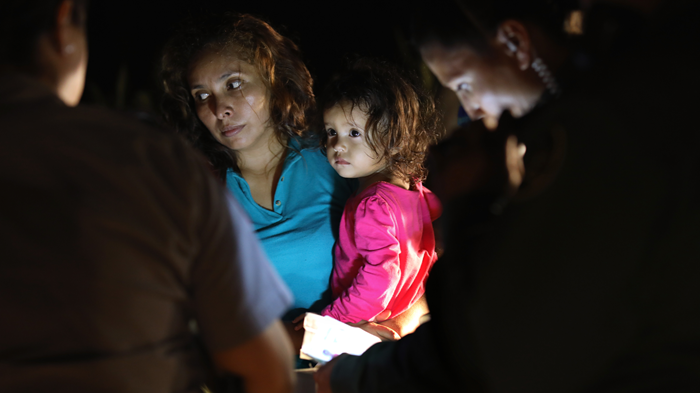 Image: John Moore / Getty Images
While the United States continues its "zero tolerance" crackdown on asylum seekers crossing the border, churches across the country and around the world are rallying to support millions displaced by the global refugee crisis.
This week, the Trump administration pulledprotections for undocumented migrants fleeing domestic violence and gang violence, a population that includes Central American Christians who come to the US because they fear for their lives as unrest worsens in places like El Salvador, Guatemala, and Honduras.
Just as the government implements another new policy—the Justice Department's recent decision to put children into government custody or foster care away from their detained parents—Christians are crying to God: Abba Father, we lift to you the precious refugee children who have become separated from their parents and family. Father God, please keep them safe and protect them from any kind of abuse. Help the children to be quickly reunited with their parents and family.
That prayer comes from the World Evangelical Alliance (WEA)'s World Refugee Sunday resources, to be used in participating churches this weekend and next weekend, timed around the United Nations' annual World Refugee Day on June 20.
With over 65 million people forcibly displaced by conflict, violence, and persecution around the globe, WEA and partnering ministries encourage Christians to raise awareness, raise prayers, and themselves welcome the stranger.
In the US, evangelicals rallying for immigration reform—who have long called on the government to prioritize family unity and protections for persecuted Christians—have likewise become more vocal in their advocacy.
Among those directly impacted by the new US policies are Christians leaving Latin American countries where organized crime outlets target them for their moral stances against violence and greed, and in some cases, the risk of violence has kept believers from feeling safe enough to gather for worship. According to one account, a Brazilian mother who fled gang threats in Brazil arrived in El Paso last week, only to have her seven-year-old taken from her, asking, "Are they going to kill you?"
During this week's Southern Baptist Convention (SBC) annual meeting, the country's largest Protestant denomination adopted a resolution reiterating its commitment to refugee ministry and welcoming migrants.
It stated in part, "We continue to 'encourage Southern Baptist churches and families to welcome and adopt refugees into their churches and homes as a means to demonstrate to the nations that our God longs for every tribe, tongue, and nation to be welcomed at his throne,'" quoting text from a 2016 resolution on the issue.
"I think God is bringing the nations, particularly as immigrants and refugees, to the US to give us an opportunity not just to go to them with the gospel, but so that they could come to us and experience the gospel," said Micah Fries, who attended the Dallas gathering as pastor of Brainerd Baptist Church in Chattanooga, Tennessee. "My fear is, as followers of Jesus, we're missing this opportunity. We're allowing political conversations, political parties, to derail a Great Commission opportunity."
Critics saw a contrast between adopting resolutions on Tuesday that affirmed the need for immigration reform (including tightening border security, offering immigrants a pathway to legal status, and ensuring families are kept together whenever possible) and on Wednesday welcoming Vice President Mike Pence, a top figure in the administration that has enacted the more restrictive policy shifts.
For Christians, the issue of family unity for immigrants shows signs of transcending partisan lines. Franklin Graham, an evangelical adviser to President Trump, recently spoke against family separation on CBN News, encouraging legislative reform to remedy the new guidelines for migrants at the border.
"I think it's disgraceful, it's terrible to see families ripped apart, and I don't support that one bit," he said. "I blame the politicians for the last 20, 30 years that have allowed this to escalate to the point where it is today. We are a country of laws, and laws need to be obeyed… but the situation we have today is the result of our lawmakers over generations, and I'm hopeful that soon something could be done to fix it."
The pushback from Christians was enough for Attorney General Jeff Sessions to "concerns raised by our church friends" in remarks on Thursday, using Romans 13 to defend obedience to national laws and reminding Christians that asylum seekers who come through ports of entry are able to stay with their families.
"I have given the idea of immigration much thought and have considered the arguments of our church leaders. I do not believe Scripture or church history or reason condemns a secular nation state for having reasonable immigration laws," he said. "If we have them, then they should be enforced."
Despite the major evangelical voices who have backed US policies welcoming asylum seekers—from SBC agency heads to the leaders of the National Association of Evangelicals (NAE), the National Hispanic Christian Leadership Conference, and the Council for Christian Colleges and Universities—the average white evangelical Protestant isn't eager to see the country open up to more refugees.
White evangelicals are less likely than other religious groups to believe the US has a responsibility to welcome refugees, according to a Pew Research Center survey released last month. Just 25 percent say it does, compared to 43 percent of white mainline Protestants, 50 percent of Catholics, and 63 percent of black Protestants (most of whom identify as evangelical).
"No matter how much we may disagree on matters of policy … we do agree on the clear biblical teaching that every man, woman, and child is made in the image of God," said Matthew Hall, dean of Boyce College at Southern Baptist Theological Seminary, following the SBC vote. "We have a unique role to play in welcoming them into our communities and showing them the love of Christ."
As of 2016, over half (53%) of top evangelical leaders surveyed by the NAE—including CEOs of denominations and representatives from missions, universities, publishers, and churches—said they attend congregations with ministries designed to serve immigrant or refugee populations.
More than 1,800 US congregations partner with World Relief, a refugee resettlement agency and the humanitarian arm of the NAE, which added 250 churches to its network in the past year alone.
Leading up to Wednesday's World Refugee Day, the organization launched a crowdfunding platform for Christians to raise money to cover ESL classes, job training, legal services, and basic household items for some of the estimated 20,000 refugees expected to enter the US in 2018. (Last year, the administration's refugee ban and drop in admittances forced World Relief to close multiple offices and downsize.)
Several churches and denominations have also released resources and messaging around this year's World Refugee Sunday efforts, including the Episcopal Church's Bishop Michael Curry, who told members of his church:
It's because we are followers of Jesus, because we follow the way of love, because we follow the way of compassion, because we follow the way of human decency and kindness that we as a church and as individual Christians and Episcopalians must be passionately committed to helping the refugees and displaced people of this world.
Earlier this year, a CT op-ed championed pro-family immigration policy, saying, "Most Christians instinctively feel the wrongness of any immigration policy that forcibly separates children and parents. But immigration approaches that reduce God's image-bearers to mere economic units should also concern us."
CT has also followed the recent plight of refugees in Bangladesh, Israel, and Western Europe.
Source: https://www.christianitytoday.com/news/2018/june/world-refugee-day-2018-us-asylum-border-welcoming-stranger.html